Our bikes are featured in road tests regularly. Enjoy some free reading on us.
How about a road test on an early 70's Honda CB750? Think you've seen them all? Maybe not one quite like this. Here's a road test on a CB750 Special built by one of our own out of a scrap bike and featured in the January 2022 edition of Classic Bike Guide.
Review of Honda CB750 Special Here
How many Yamaha TX750s have you ever seen? None? Then you're part the vast majority. This road test from the May issue of Classic Bike Guide tells all about this extremely rare bike.
TX750 article HERE
​​​​​​​
Ever thought about a Honda 350 twin? Classic Bike Guide looked at the prospect in the April 2021 edition and used one of our CL350s to illustrate.
Honda 350 Twin Review Read Here
What the most rare Suzuki you can think of? The RE5? The TS400? We get those from time to time but we've only ever had ONE of these. The Madura. When Ollie came to borrow some bikes for road testing we challenged him to try this 1200cc V4 beast. And he did! Read his thoughts from the April 2021 edition of Real Classic magazine
Suzuki Madura Road Test Click Here
Classic Bike Guide April 2021 tested the Suzuki GT185 against the Yamaha CS5. Both the featured bikes were sold before the magazine hit the streets (and another GT185 after this one) but we always have more bikes coming.
Suzuki GT185 versus Yamaha CS5 Road Test Click Here
Classic Bike Guide for March 2021 has a review of the Honda CB500 twin and the Honda CB450 twin. We supplied both bikes for the test
Honda CB500 versus Honda CB450 Review Click Here
Whilst not 'the press' exactly, we supply bikes to the film and TV industries. In February 2021 we were pleased to supply one of our 'reserve stock'. This is an immaculate restored Kawasaki Z1A from 1974. It was needed for an 8 part TV drama in which the main character goes back in time (so the bike needed to look new). Not so much 'Fire up the Quattro as 'Fire up the Zed' (and no, it isn't Life On Mars again).
Suppose, of all the bikes in the world, you could only have one? Tough choice to make eh? In Real Classic February 2021 our own Mark Redfern suggests the CB750 as his choice of 'the one to have'.
The One To Have Article Click Here
Here is a review of the legendary Laverda Jota from Classic Bike Guide January 2021. We supplied the bike for this one
Laverda Jota Review Click Here
Here's a great article from Classic Bike Guide in November 2020, we were pleased to lend the bikes for this article that compares a couple of 750s that might not be your most obvious choice...
750 Road Test here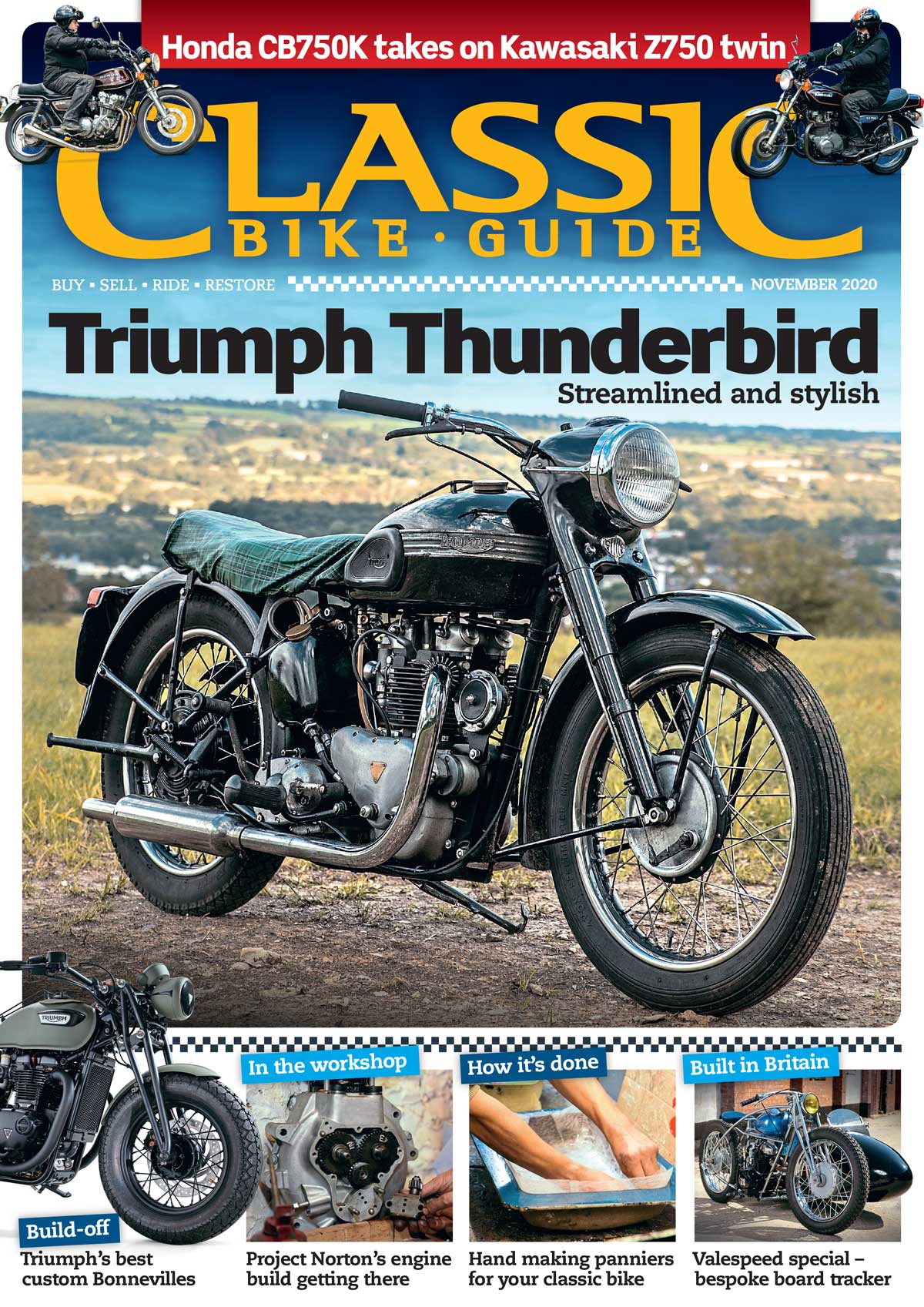 Here's an article from Real Classic magazine March 2020 making a comparison of some great 500's from back in the day... ...we supplied the bikes and the words for the article.
One of our own, Mark Redfern, is featured in this article!
Trail bike Article
We also get a mention in this Real Classic magazine article as both Mark and Andy went on this trip, back when we used to do restoration work too, now we just focus on importing and selling bikes for you to ride and enjoy or work on yourself.
Belgium Road Trip